MSAD 54 COVID-19 Information
Educational Resources for Students »
June 25, 2020
MSAD 54 Remote Learning Family Survey »
---
June 3, 2020
It is with sincere gratitude that I write this letter to you as we close in on the end of the current school year which ends for students on June 5th.
It has been my sincere privilege to have served as your Superintendent of Schools over the past seventeen (17) years. Clearly, the past three months have been challenging and unprecedented regarding the issues that everyone has experienced and coped with as a community. We are focused on bringing the closure of school to an end as smoothly as possible, while recognizing how stressful this is for everyone. I want to personally thank everyone for their part in making this as smooth and as child centered a process as possible.
---
May 29, 2020
In anticipation of the CDC and Governor Mills expanding social gatherings to 50 or fewer on June 1 and after consulting with students about how to best honor and promote the Class of 2020, and after considering several options, we have elected to hold an in-person graduation in June. 
---
April 10, 2020
The purpose of this letter is to provide you with an update on our school year, share our district's plan for continued opportunities for distance learning, and to give guidance regarding "how much" schooling is appropriate for your children while learning continues at home. You will find additional details posted to our district website over the coming days and I encourage you to access these resources and call your school administrators with questions. 
In light of the Commissioner of Education and Governor's recommendation for schools to move to remote learning for the remainder of the 2019-20 school year, the MSAD 54 Board of Directors voted to support the implementation of our Distance Learning Plan. This plan includes the move to providing online/virtual (Level 2) learning opportunities following April vacation. In the event State and CDC guidelines change in such a way that would allow a return to school, we will adjust our plans accordingly. 
MSAD54 Opportunities for Distance Learning Plan
The district recognizes the incredibly challenging situation that our families face as our children are forced to remain at home during this pandemic. We understand not only the need for learning to continue while students are at home, but also that many of our students either do not have adequate access to technology or the internet, or do not have the resources necessary to support them in regularly accessing an education outside of school.
Knowing that Feedback is Essential to Learning: Is it possible to equitably "Grade" in this Crisis?
All schools in the state are in a similar situation as we are all closed, likely for the remainder of the year. We are all wrestling with what to do with distance learning. Unlike a snow-day, there are some unique challenges around equity that come with a closure for the remainder of the year; it is unlikely that any school can guarantee 100% of their students will have access to either the materials and resources, or teachers' expertise, to bring up their grades. It is equally unlikely that access can be guaranteed, fair (either access to internet, support or to devices) and balanced. Additionally, we believe feedback is essential to student growth. We believe it is essential that students who are working receive feedback from teachers. Because of this, our team reviewed the following approaches/situations to see how others are handling feedback and grading to determine if we could, with any modifications, consider a way to provide feedback AND equitably grade our students for their time out of school.
---
April 2, 2020
These are truly unique times that have placed a burden on all of the things we value, including and at the forefront, our families. It is with this in mind that I am writing to provide you with an update on the district's next-steps as a result of the ongoing school-closure due to the COVID-19 Pandemic. As you are aware, Governor Mills' most recent order has extended the closure of schools through at least May 1st. Unfortunately, the guidance from the CDC and other medical experts lead me to believe that this closure will likely extend beyond that. Regional Superintendents will be meeting over the coming weeks to discuss next steps as we await further guidance from the state. In the meantime, I wanted to highlight the approach we are taking with respect to food delivery, district schools/offices and support, and at-home opportunities for learning for our students. Know that we recognize that nothing about this situation is ideal, but we, like you, will continue to do our very best. 
---
March 20, 2020
In consultation with superintendents in our region and around the state, based on guidance of the Maine CDC and Maine DOE, MSAD54 will be extending the closure of our schools through April 26th. This decision allows us to continue to get guidance from the state to make a decision about the remaining part of the school year over the next month. To say the least, this has been difficult on everyone in our community. I truly hope your families are and remain healthy. We will continue to provide meals in our community as well as educational resources for opportunities for at-home learning while school is out of session. I've again provided this information below and would encourage you to visit our website for more information.
---
March 17, 2020
I am writing to provide you with an update on the district's next steps as as result of our recent school closure due to the COVID-19 pandemic. As you are aware, Governor Mills has issued a state of emergency and both federal and state officials have provided guidance that citizens should avoid gatherings of ten (10) or more people and advised us all to practice what is known as "social distancing". As of now, we do not know when our schools will reopen.
---
March 15, 2020
In response to guidance provided over the weekend specific to the COVID-19 pandemic, and in consultation with our board of directors, we have decided to close all of our schools for two weeks beginning Monday, March 16, and lasting until Friday, March 27. This closure is a proactive measure designed to allow staff to meet, plan, and have additional time to receive guidance. This school closure applies to all MSAD 54 School facilities including MSAD 54 Adult Education and the Somerset County Regional Technical Center (SCTC). Additionally, all outside facility uses will be suspended until further notice.
---
As we await further guidance from the Maine Centers for Disease Control and the Maine Department of Education, we encourage our parents/guardians and staff to follow common-sense strategies for preventing the spread of viruses:
At the individual student/staff level:
We ask that children be kept home if they exhibit cold symptoms or a fever.
We will continue to ask staff who are ill or have a fever to remain home and use sick time.
Students and Staff are asked to regularly wash their hands and use proper hygiene, including avoiding touching face, mouth, eyes, etc.
We encourage everyone to avoid travel when possible, especially to large gatherings in areas where there are known COVID-19 cases.
At the classroom/school level:
We will reach out, as is our current protocol, anytime a student is found to have a fever or be sick.
Teachers & nursing staff will be reviewing hygiene protocols with students including proper hand-washing, etc.
Staff will discourage the sharing of personal items, including food, etc.
Teachers will have anti-viral disinfectant spray bottles available for classroom use.
Custodial staff will continue to follow cleaning protocols including increased frequency in high-travel areas and high-touch surfaces.
At the District Level, MSAD 54 will:
Be in regular communication with state and local agencies regarding best practices for schools.
Provide ongoing communication re: this topic including directly communicating with parents and our communities and by regularly updating this page
Convene ongoing district administrative, crisis team, nursing staff, and school-staff meetings as necessary to inform and share information and to adjust plans based on guidance from the State.
Review all school-related programming, especially field trips, including in and out-of-district trips.
Review protocols to ensure regular ongoing best-practices are followed with respect to the cleaning of each school bus, in our preparation and distribution of food, and other district-wide programs.
Work with area Schools and Superintendents to coordinate our responses to be consistent and best ensure the well-being of our students and communities.
View Parent Letter - Coronavirus (COVID-19) »
For more information from the CDC visit:
https://www.maine.gov/dhhs/mecdc/infectious-disease/epi/airborne/corona…
---
Additional Resources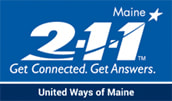 For more information: Contact 211 Maine for answers to frequently asked questions on COVID-19:
Dial 211 (or 1-866-811-5695)
Text your ZIP code to 898-211
Email info@211maine.org
211 is TTY and Video Relay accessible if calling from Maine
Visit www.maine.gov/dhhs/coronavirus
The SAD/RSU 54 nurses offer the following recommendations for staying healthy and the use of gloves:
As many people turn to the use of gloves to protect themselves and others, please remember the following basic concepts:
Always WASH HANDS before putting on gloves.
Do NOT touch face or obviously soiled objects while wearing gloves.
Understand the proper way to remove soiled gloves. (see video below)
Place soiled gloves in the trash. WASH YOUR HANDS.
Do NOT wash gloves or attempt to reuse gloves.