Public Information and Announcements
PRESS RELEASE – MSAD 54 to hold Groundbreaking Event for the New Margaret Chase Smith Community School
Date/Time: August 17, 2023 at 10:00 AM
Location: 40 Heselton Street, Skowhegan, Maine
What: Groundbreaking Event for New Consolidated Elementary School
Agenda: School officials and guests will speak briefly about the project and its benefits to our kids and community, followed by a groundbreaking shovel ceremony with pictures.
Who is invited: Everyone in our community, especially our students are encouraged to attend.
Note: Along with snacks and refreshments for all in attendance, areas for younger students will be available (sandboxes, etc.) for play. Additionally, ceremonial hard hats will be provided for all students who attend the event.
---
State Board of Education gives unanimous approval to MSAD54's Margaret Chase Smith Community School project
The State Board of Education voted unanimously on Wednesday to approve the Design and Funding Approval phase of the project, giving the $75,338,985 project approval to move forward. The project, which is more than 95% state funded, includes a local-only fundraising effort coordinated through KVCAP with the help of an amazing team of local project supporters. As of April, the fundraising effort has raised roughly $2.4 million dollars! This fundraising effort will significantly reduce any impact the project may have on local taxpayers. If you or those you know are interested in supporting the project (every gift helps), visit the fundraising page at: https://www.kvcap.org/building-better-beginnings/
With unanimous State Board Approval, the project will be moving forward quickly. The district will begin accepting bids from contractors starting on April 13th, with Bid Openings scheduled for May 18th. The project anticipates breaking ground by July, and is scheduled to open in the fall of 2025. For further information visit: https://www.msad54.org/building-project
---
New Elementary School Notice To Contractors
The district anticipates making drawings available on or about April 13th with bid opening occurring on May 18, 2023. Interested subcontractors or pre-qualified general contractors should review the following notice: http://bit.ly/3nNFO8Z
---
Tonight's Building Committee meeting has been canceled.
The next meeting is scheduled for Wednesday, March, 29th.
---
MSAD 54's New Elementary School Gets a Name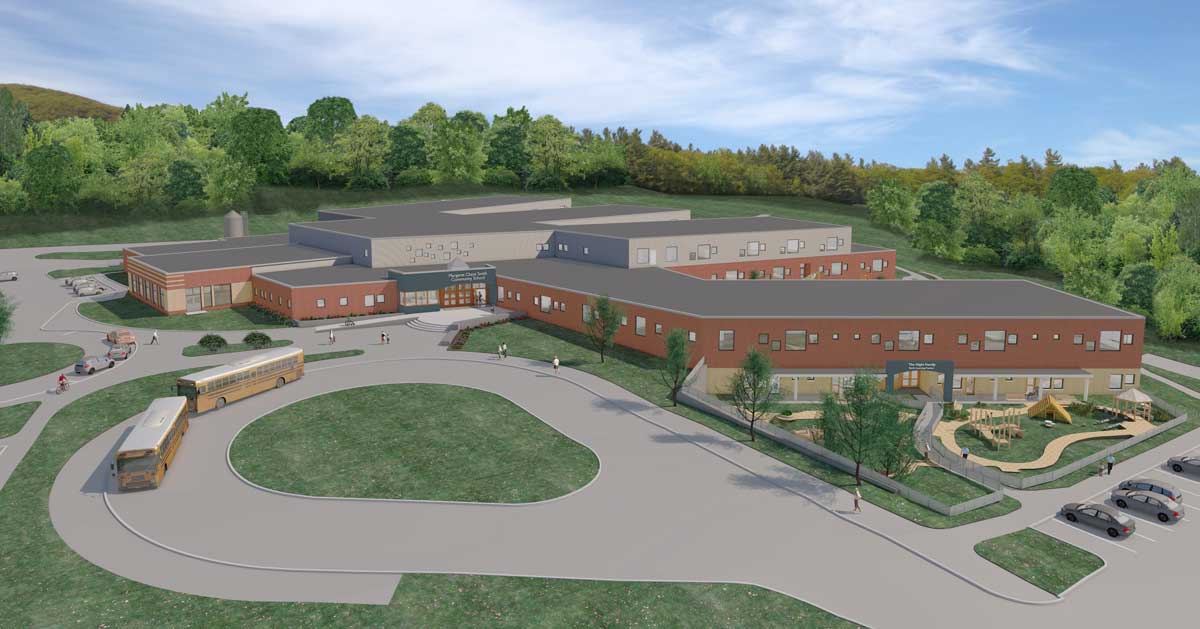 The MSAD 54 Board of Directors voted to approve the following name for the new state-funded elementary school in Skowhegan: The Margaret Chase Smith Community School. Although there were numerous suggestions for the name, many of which were connected to the community and our history, the Board chose to support the overwhelming first choice of the public by supporting the name, which represented 72% of the votes cast from 2,333 responses.
The project, which began in 2017 with the application to the state, has been a multi-year collaborative effort with all involved. District voters supported the $75,338,985 project overwhelmingly at referendum in June of last year. Over 94% of the project is funded directly by the state, with 5.9% being funded locally. Thanks to the amazing support of our community local fundraising efforts, which began this past fall, have already raised over $2.3 million dollars toward the project. Anyone wishing to donate can visit the following website: https://www.kvcap.org/building-better-beginnings/
The District anticipates breaking ground on the project this summer with an anticipated building opening in the fall of 2025.
For more details visit our building project page: https://www.msad54.org/building-project
---
Sickness / Respiratory Illness
As has been reported throughout the state, we have seen a significant increase in sickness. Although we've not seen significant cases of Covid-19, we have seen an increase in both respiratory and flu-like illnesses which are concerning. As schools see an increase in sickness for both students and staff, we are reminded that it is important to prevent transmission of viruses/sickness in school.
---
Name for new elementary school
The MSAD 54 Board of Directors is seeking feedback from our communities including our students, staff, parents, alumni, and residents about the name of the new elementary school that is being built in Skowhegan. Please take a moment to complete the following short online survey: https://forms.gle/G9brwPrh8GxoiTaq6
Early in January, the Board will review community feedback and make a final determination on the name for the new school. We sincerely thank you for your feedback. Should you have questions, we encourage you to reach out to us or review information on the building project page: https://www.msad54.org/building-project
---